BARS
BARS stands for the British Association of Rally Schools. It is a Motorsport UK-recognised collective of rally schools that train and test prospective competitors to ensure their suitability for holding a Motorsport UK competition licence.
There are 10 member schools who run the BARS course. You can do the course at whichever school you want, so just pick the one that's best for you and get in touch. For more information about BARS schools and licenced instructors, please click here.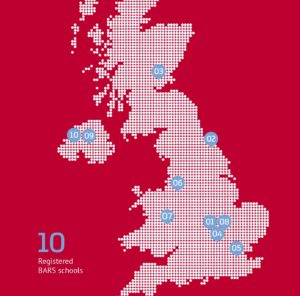 1. Bill Gwynne Rally School
2. Chris Birkbeck International Rally School
3. Knockhill Rally School
4. London Rally School
5. MotorSport Vision, Brands Hatch
6. MotorSport Vision Oulton Park
7. Phil Price Rally School
8. Silverstone Rally School
9. Superdrive Motorsports Centre
10. Euro M-Sport
BARS Course – What to expect
The exact format of the BARS course can vary slightly from school to school, but a typical day involves several key stages.
Welcome Briefing
The BARS examiners will kick off by welcoming you and your fellow candidates to the school and briefing you on how the day will proceed. This will also include some guidance on what to expect at your first event once you have completed the BARS course.
Safety
Safety is always the overriding consideration in motorsport, so expect a good deal of time to be spent covering this vital topic on the day, so that it is fresh in your mind before you go any further. Make sure that you watch out instructional video.
Written Test
You will need to sit a written test in a classroom environment. This test will cover the relevant section of the Motorsport UK Yearbook: Section R, Rallying. You will not need to know all of the regulations inside-out at this stage but the safety elements are important.
Stage Test
In addition to the written test, you will head out onto a test course with a BARS examiner who will evaluate your ability to handle a rally car in a safe and controlled manner. Remember, this is not a test of your speed and skill; it is a test of your competency, so there is no need to try and show off!
Debrief
The final step is to debrief with your BARS examiner, who, providing that you complete the course successfully will be able to sign your competition licence application form which you can then complete and return to Motorsport UK to receive your first competition licence!