Academy duo Armstrong and Fair win 2023 ERC3 Championship in Italy
Motorsport UK Academy Team UK's Jon Armstrong and Cameron Fair, a graduate of the Academy's co-driver programme, have wrapped up the 2023 European Rally Championship 'ERC3' class title with two rounds to spare.
The duo's dominant Rally di Roma Capitale victory last weekend (29/30 July) confirmed the title that Armstrong had already provisionally claimed at the previous round in Poland but co-driver Fair hadn't, owing to missing the season opener in Portugal.
That was promptly rectified as they romped home to a near four-minute win in Italy aboard their Ford Fiesta Rally3 Evo run by M-Sport Poland. It was Armstrong and Fair's fourth triumph in the eight-round calendar, while Armstrong also won the first round with another co-driver.
In fact, the only event victory Armstrong has missed out on so far in 2023 was Rally Scandanavia in early July – because he was competing in the main ERC category that weekend.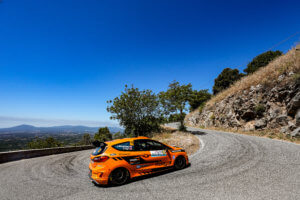 "Five out of five, it's really good, and it's good to see the second per kilometre against the Rally2 cars keeps getting closer and closer, that's encouraging," said Armstrong.
"It's fantastic to get the title, and the team have done such a great job all season. Cameron hadn't done an international rally before stepping up on Rally Islas Canarias, so it's been a good opportunity for him to dip his toes in this scene and to be able to get a championship is really good for him as well. We were trying to take no big risks today and it's worked out really well, I'm really pleased."
Armstrong is a part of the elite Motorsport UK Academy Team UK cohort in 2023 – a national squad of competitors selected to receive a bespoke one-to-one performance programme as they compete at the highest levels of the sport.
Fair, meanwhile, is a graduate of the Academy's co-driver programme. Alongside providing technical development sessions in writing Pacenotes, practicing recces and creating services schedules, the co-driver programme also looks at areas around the role to develop such as media skills, fitness and sport psychology.
Find out more about Motorsport UK Academy here.
2023 was Fair's first at international level, having primarily competed in Scottish rallying previously, whilst Armstrong already had a taste of the global stage with WRC2 and WRC Junior, a title he won in 2021 and finished second in in 2022.
Images courtesy of Flat Out Media.