Inside Revolution: Brits in the Brickyard
In July's edition of Revolution, Fergus Reed introduces the British drivers who took on America's 'Greatest Spectacle in Racing'.
Revolution is available online, as a PDF download and on the Revolution app (for both iOS and Android devices). 
As the green flag waved on last month's 107th running of the Indianapolis 500, IndyCar's flagship race and one of motorsport's 'Triple Crown' events which also includes the Monaco Grand Prix and 24 Hours of Le Mans, three Brits in the 33-car entry could breathe a sigh of relief that they had made the start of the 200-lapper in Indiana.
For Callum Ilott, Jack Harvey and Katherine Legge, the build-up to the Indy 500 – typically long and arduous in itself – was a dramatic affair.
24-year-old Ilott, one year on from a crash mid-way through the Indy 500 which broke his hand, came into race day off the back of a turbulent month of practice and qualifying in which he was essentially 'fighting' his Juncos Hollinger Racing-run Dallara DW12 single-seat race car. Other drivers around him – rookies and veterans alike – commented on how Ilott, who is in his second of three confirmed seasons with Juncos, was brave to even continue driving the evil-handling car.
"Any small feeling you have at 230mph is not a good feeling, and the normal saying is 'if something doesn't feel right, you box (pit)' – that's the way it goes on these ovals," Ilott told Revolution. "And every run I just had that. I didn't really have another choice other than keep going out there and trying again, which in hindsight was a horrible situation, but we kept trying to make it work, and I guess that's part of my character and part of the team's character. I was brave for trying."
Then there was Harvey, winner of the 2012 British Formula 3 championship, who only just scraped through to the big race – but knocked out teammate Graham Rahal, son of Rahal Letterman Lanigan Racing team boss Bobby Rahal, in the process. If Ilott was brave, then you would imagine Harvey must've been positively fearless…
"Nobody wants to bump out their teammate, and I'm actually very good friends with Graham as well, so that made it even worse," Harvey revealed. "I was sad for Graham and for his family, and the team… but I want to be in the race!"
After a ten-year sabbatical from the Indy 500, Katherine Legge joined the Rahal lineup in a one-off deal for the great race. An FIA Women in Motorsport commission member and longtime US racer, Legge was born in Guildford, Surrey, but calls the States home and has raced there more than anywhere else. With spells in ChampCar (IndyCar's predecessor) as well as more recent outings in the IMSA SportsCar Championship for Acura, Legge is no stranger to hard racing and tough competition.
Tough it was – she was involved in an unfortunate practice incident which ruled fellow Brit Stefan Wilson out of action for the remainder of the event and, while Legge herself was unscathed, any accident at the Indianapolis Motor Speedway takes its toll mentally. To bounce back and qualify for the race – in slightly less dramatic fashion than teammate Harvey – was impressive.
Ferrari Academy driver Ilott, who made his IndyCar debut in late 2021 alongside his F1 reserve driver role for Alfa Romeo, has a patchy history at Indianapolis. The crash in last year's Indy 500, along with a collision with a GT4 car while leading the 2021 Indianapolis 8 Hour GT race for Ferrari (on the road course), would be enough to put anyone off wanting to return to the venue. An 18th-place finish in the IndyCar road course race two weeks before this year's Indy 500, combined with the major issues in practice and qualifying on the Speedway, only added to Ilott's poor record here.
The troubles for car #77 were immediately obvious as far back as day one of the open test in late April. "It was a super windy day, particularly in the afternoon, but in the morning I'd already noticed there was something not right which I wasn't happy with," Ilott said.
"Then, when we got to the afternoon, the problem I was having was exaggerated and I couldn't keep it in a straight line. The car was kind of 'floating' and not following what I was doing with the steering which at 230mph is not very confidence inspiring."
With the second of the two scheduled test days at the Speedway rained off, the team were very much on the back foot going into May, but the race was still four weeks away – allowing them to really dig deep and try to fix the issue before resorting to more drastic measures.
When May's track activity began, however, things were still looking bleak. Ilott continued: "We changed a lot of parts on the car, to increase (statistically) one of them being the cause of the issue, so going into practice week (before the race) we thought everything would be okay, but there was still something not right."
"It was something I could feel, and it took me ages to get the car in a position where I could drive around with confidence, which is just not right, and I'd never had that, and it was a real struggle."
As time passed, some progress was eventually made on the car. Driveability was improved – no longer was it posing an active risk to both Ilott's safety and that of others around him. As race day drew ever closer, however, it was obvious that the fundamental issue now was the speed of the car. While the handling had become less unpredictable, it was still a concern for Ilott.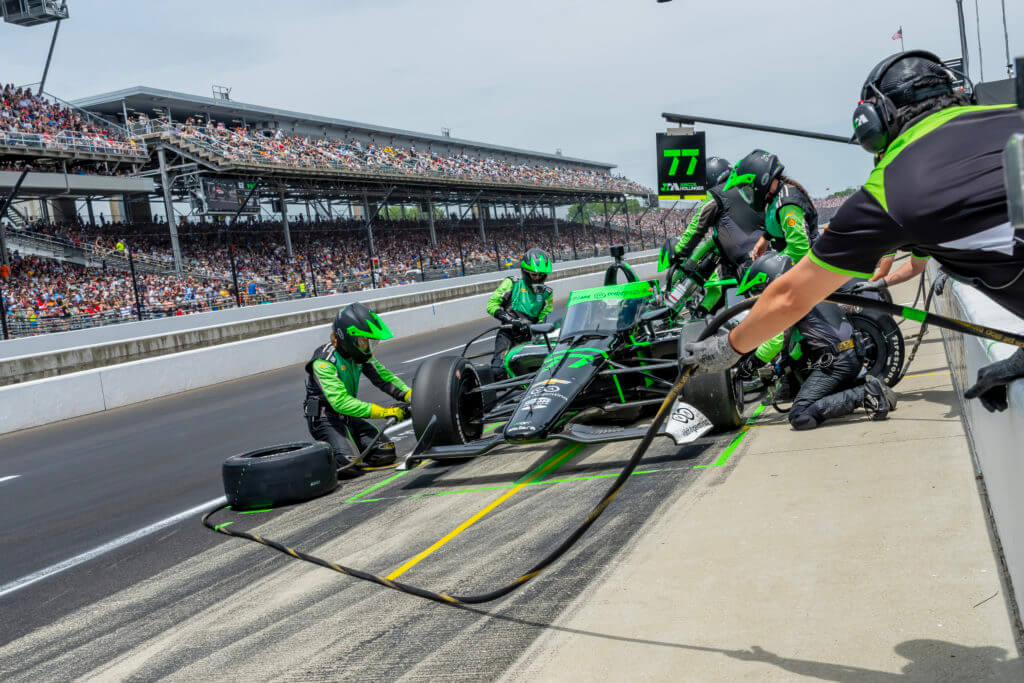 "We got the car into a driveable position, but it was slow, and not good, and that was one of those things where it was a case of: 'yeah, we can get a car that runs but I'm two miles-per-hour slower than the second-last person' and that wasn't good," he added.
Additionally, any small changes made to the car to increase its pace put it back in dangerous territory when it came to driveability.
"I could barely hit any apexes because I was worried that the car was going to drop down slightly or come up off the line slightly and I just couldn't predict what the car was going to do," Ilott added. "You only need to touch the concrete apron on the inside to be in the wall – an inch wrong and it's game over."
"So, at that point, a decision needed to be made, and arguably now it was too late, and in hindsight I wish we'd done it a lot earlier, so we'd had more time to work with it."
That decision ultimately came on Friday evening after the 'Fast Friday' practice session, so-called as the boost of the cars is increased for qualifying simulations to take place before it gets underway for real on Saturday.
The decision? Replace the chassis. As Ilott mentioned, it was "arguably now too late" but – undeterred – the Juncos team burned the midnight oil to switch the engine and gearbox over to the chassis used by Ilott's teammate, Argentinian touring car legend Agustin Canapino, in the April test.
Now, Ilott's work was really cut out for him. Saturday dawned and with only a handful of laps in the new car under his belt, it was time to do what others had had multiple days to prepare for – lay down a lap good enough to make the race.
"I was even braver for going and sending something (the new chassis) that I hadn't even tried before qualifying," he added. "It's so hard to get these cars in the right window – you work the whole week on that, to get the car ready for qualifying, but we had to do it in 8-12 laps."
And that's exactly with Ilott did with aplomb. His 231.182mph average placed him 28th, just a fraction behind Canapino and comfortably into the race. It was a gargantuan effort from both Ilott and the team.
Harvey's Rahal Letterman Lanigan Racing machine was never as dangerous to drive as Ilott's Juncos challenger. It just lacked pace. That people were surprised when Harvey, who's been living and racing in the US for a decade, made the cut right at the end of 'Bump Day' qualifying is a tell-tale sign that the speed simply wasn't there to make the grid.
Since moving to the team in 2022 from Meyer Shank Racing, Harvey's had a tough time in the series. There was seemingly some light at the end of the tunnel at the Indy road course race just before the Indy 500, with a strong fourth in qualifying, but that quickly unravelled on race day. Thoughts then quickly turned to preparing for the Indy 500 – the 'Greatest Spectacle in Racing.'
When qualifying weekend arrives, so does 'Bump Day.' An Indy 500 tradition dating back to when the event used to receive significantly more entries than the 33-car capacity, it's lost a bit of its spark over the years as, generally, the entry is around the 33 mark anyway. However, 34 cars turned up in 2023 and with it, one unlucky driver who wouldn't be seeing the green flag. That, of course, turned out to be Graham Rahal.
Speaking about the situation, Harvey was reflective. "As a team, we have four cars out there and three of them in last chance qualifying. So, we can talk about me bumping (out) Graham, but it was pretty poor that we were even in that situation."
Regardless, they were in that situation and Harvey had a very limited window – just four laps – to make his mark. The first flyer wasn't an improvement and, with the engine needing a cool-down period, it was looking less and less likely that the last lap would be any quicker. But Harvey dispelled any notion of that and duly did improve on his last effort – a mere 0.0044s making all the difference.
"It's a day I'll never forget and, if I could say something humble, I'd say I performed well," Harvey added. "It's a high-pressure moment and I'd be okay if we didn't have to participate in Bump Day again!"
Starting the race from the back, and with nothing to lose, Harvey admitted that the pressure was off. "As big a race as the Indy 500 is, I actually feel the least amount of pressure because there were definitely moments, for a sustained period of time, I didn't think we were going to be in the race. And suddenly we get in, and now for me and the team, the atmosphere is 'well, this is a bonus' (getting into the race), so we can allow and afford ourselves a bit more risk in our strategy."
He was also contemplative of the situation, and very much keeping in mind what motorsport is and should always be about.
"It's been a stressful week, and a stressful month, but racing is meant to be fun. I think that's the number one thing we all need to remember in this moment. We'll go out there, do our best and see where we end up."
The race
It took until nearly the halfway point – lap 94 of 200 – for the race's first incident and subsequent safety car as rookie Sting Ray Robb hit the wall. What had been a quiet opening stanza was quickly turned on its head as Alex Palou, who netted pole position for Chip Ganassi Racing with an incredible 234.217mph average lap speed, was sideswiped by an out-of-control Rinus VeeKay on pit exit. 
The leading driver to stay out – and avoid the chaos of a busy pit lane – was Ilott, whose Juncos team opted on a different strategy for him. Having started towards the back and with the race pace of the new car largely unknown, bold strategy calls had the potential to make all the difference. Ilott now shuffled to the front. "I got a little taste of what the race is about! We got a bit lucky on strategy (with the caution) but, at the same time, there were others on a very similar strategy who didn't capitalise as much," Ilott added. 
The sight of the black-and-green #77 car leading the Indy 500 was something that had seemed impossible leading up to race day. It was brief – after the restart, the natural pacesetters worked their way back through the field – but Ilott performed well among the quicker cars and showed that he could, in the right machinery, challenge at the front. 
"It was interesting – we weren't set up to be running with the front guys, I had so much downforce on the car because I was meant to be 27th in line, so with the amount of dirty air and turbulence, we needed to be running that (low) downforce, so I was just a sitting duck compared to the others." 
Once back into a midfield position, Ilott's consistency was impressive, and he crucially kept out of trouble in the chaotic final portion of the race, which featured three red flags after multiple crashes. 
"Those last 20 laps were basically the same length as the other 180 that we were doing! It's an interesting one, because you go through such a clean race for so long and then, by the end of it, you're just in this phase of kind of wanting to get it over with. It was three hours – it was intense, it was hot, and the clock's ticking down. And, when you're in a good position, you wonder what's going to happen." 
He needn't have worried. When the flag finally waved to Josef Newgarden after a controversial one-lap shootout with last year's winner Marcus Ericsson, Ilott crossed the line 12th – very much a victory in itself for him and the Indianapolis-based Juncos squad. 
"It was a great result for us after all the struggles we went through. Once I settled in, I was a good mid-pack car which is what I expected to be, and I was able to fight and make up some places on the restarts and get a great finish in P12! What a great race, it was super nice and rewarding to be in that position and to do everything right when it mattered. It was a pretty spectacular result all things considered!" 
Elsewhere, Harvey had a solid run to 18th with a clean, controlled race. Given the lack of car pace all month, it was unrealistic to suggest a top 15 was on the cards, but even breaking into the top 20 was impressive from the 30-year-old from Lincoln. He was also the top Rahal Letterman Lanigan Racing car, finishing just ahead of teammate Lundgaard. 
Katherine Legge wasn't so lucky, and a tough May was concluded with an early exit from the Indy 500 with an incident in the pit lane on lap 41.