Girls on Track UK's Ambassadors are a group of inspirational women within motorsport. From team principles to mechanics, presenters to engineers, our Ambassadors cover the breadth of the sport. Attending school and networking events, in addition to speaking at virtual events are just a few ways that our ambassadors are actively involved in this initiative. They provide an important insight into the sport and their support and knowledge is invaluable.
Alice Powell
British racing driver who drives in the W series. In 2010, Alice became the first woman to win a Formula Renault championship and two years later she became the first woman to score points in the GP3 Series (now named the FIA Formula 3 Championship).
Ariana Bravo
Presenter and broadcaster for F1TV and Channel 4 covering Formula 1.
Carol Glenn
Carol was the first female official of colour in the UK and has worked as a marshal, Championship coordinator and Secretary of the Meeting at a national and international level across Circuit, Sprint and Rallycross events.
Catie Munnings
British rally diver who competes in the ERC and WRC Rally Championships. Red Bull Athlete and Ambassador for IAM Road Smart and Peugeot UK as well as Girls on Track.
Charlie Broughton
Motorsport Technician for Power Maxed Racing in the BTCC, TCR and VW Cup and Technical Buyer, Parts Sales and Account Manager at Tuthill Porsche.
Chloe Grant
Scottish racer in the F1 Academy, an all-female racing series supported by F1 and managed by Susie Wolff. Chloe competes for ART Grand Prix, which has helped a plethora of talent on their way to F1, including Lewis Hamilton, Nico Rosberg, Charles Leclerc and George Russell.
Charlie Martin
A British racing driver and LBGTQ+ activist, Charlie Martin has already made LGBTQ+ history in sportscar racing, finishing fourth in class at the 2020 ADAC TOTAL 24 Nürburgring-Rennen on the notorious Nordschleife in a BMW M240i, and has scored podium finishes in various championships including Dutch Supercar Challenge, Britcar Endurance Championship and Germany's ADAC GT4 series.
Dr Clare Morden
Chief Medical Officer at Brands Hatch, along with providing medical support at other UK circuits for a range of Motorsport events. In addition to this Clare is a race doctor at a number of worldwide Formula E and Series Doctor for the new International E-TCR Series. When not at the race circuit, Clare is an intensive care doctor and teacher of CPR at Girls on Track events.
Dr Cristiana Pace
Founder and Director of ENovation Consulting, member of the FIA Environment and Sustainability Commission and a visiting fellow of Coventry University.
Jamie Chadwick
British racing driver currently competing in the Formula Regional European Championship and in the W Series, after having won the inaugural W series championship in 2019. Jamie is also the Development Driver for Williams Formula One team.
Jennie Gow
Journalist and broadcaster for the BBC Formula One coverage, in addition to working on the Formula E and Le Mans series.
Jenny Tinmouth
British Motorcycle rider, competing in the 2020 national superstock champion. Jenny is the Isle of Man Female lap record holder.
Justina Williams
British Touring Car Championship Team Owner
Dr Kathryn Richards
Wind Tunnel test technician at Mercedes AMG Petronas Formula One Team.
Lee McKenzie
Presenter and Journalist for Channel 4 and BBC covering F1, W Series, Rugby, Olympic, Paralympics and Wimbledon.
Louise Goodman
Experienced television presenter and journalist and runs her own media training company. Louise has presented across many motorsport disciplines, and currently presents for ITV during the British Touring Car Championship race weekends.
Maria Costello MBE
Inspirational British Motorcycle racer, Ambassador and Speaker. Image courtesy of www.beckphotographic.com.
Nathalie McGloin
British racing driver who is the only tetraplegic in the world who races cars, and is the only disabled female in the UK to hold both a rally and race license and is currently racing in the Porsche Club Championship. Nathalie is also the president of the FIA Disability and Accessibility Commission and is at the centre of opening up pathways into the sport for disabled drivers.
Natalie Pinkham
British television presenter and Formula One pit lane reporter for Sky Sports F1.
Rachel Brookes
Broadcast journalist for Sky Sports F1, Sky News, Cricket specialist and Webinar Host.
Rosanna Tennant
British broadcaster, journalist and presenter for Formula 1, Formula 2 and F1 Esports.
Ruth Buscombe
Strategy engineer for Alfa Romeo Racing Formula One Team.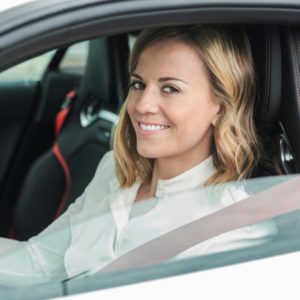 Susie Wolff MBE
Team Principle of Venturi Formula E team, Ambassador of the FIA Women in Motorsport Commission and Founder of Dare to be Different Charity.
Tatiana Calderon
Columbian racing driver who is the test driver for Alfa Romeo Formula One team and drives for the Drago Corse with Three Bond squad in the Super Formula Championship and for the Richard Mille Racing in the European Le Man Series.
Victoria Guppy
Battery Systems Lead Engineer for an OEM