Aspiring engineer Paloma enjoying Girls on Track UK opportunities
A huge part of the popular FIA Girls on Track UK programme is the sizeable social media community, which enables thousands of women and girls from all backgrounds to connect with others who are passionate about motorsport.
This community, spearheaded by a Facebook group made up of almost 6,000 members, offers a safe place to discuss ambitions of working in motorsport, receive advice and best practice from those already in the industry, and get access to exclusive opportunities and competitions.
14-year-old Paloma is certainly taking these opportunities with both hands. Since joining the community, she's had the chance to enjoy a tour of the Mercedes-AMG PETRONAS F1 Team factory in Brackley, and take part in the Idris Elba Speed Academy competition at the ABB FIA Formula E London E-Prix – where she won a karting scholarship!
Here's more from Paloma about her own ambitions in motorsport and how being part of the community has helped her shape her own future:
"I've always wanted to be involved in motorsport, but the industry can be intimidating. Joining the FIA Girls on Track UK community has allowed me to have experiences that have made the sport more accessible to me. It has helped me build confidence to pursue my dreams of having a career in motorsport.
"One of the opportunities I've had was to visit the Mercedes F1 factory in Brackley. I would have never imagined that one day, as a 14-year-old girl, I would have the chance to see the home of one of the most successful teams in the history of F1 – let alone walk around the factory, be able to hold the trophies, get very close to some of the cars, and see everyone working hard on a Saturday morning to get the best results in the race that weekend.
"Having the opportunity to meet female role models at Mercedes was very inspiring for me. Kathryn, the wind tunnel technician, gave me a lot of advice about how to reach my goal of working as an engineer in an F1 team and how to deal with rejection by never giving up no matter how hard it might seem at the beginning. Then, I met Hillary. She is an aerodynamicist, which is, along with racing, one of my dream jobs! We talked about our shared passion for making racecars go faster and how she started her career.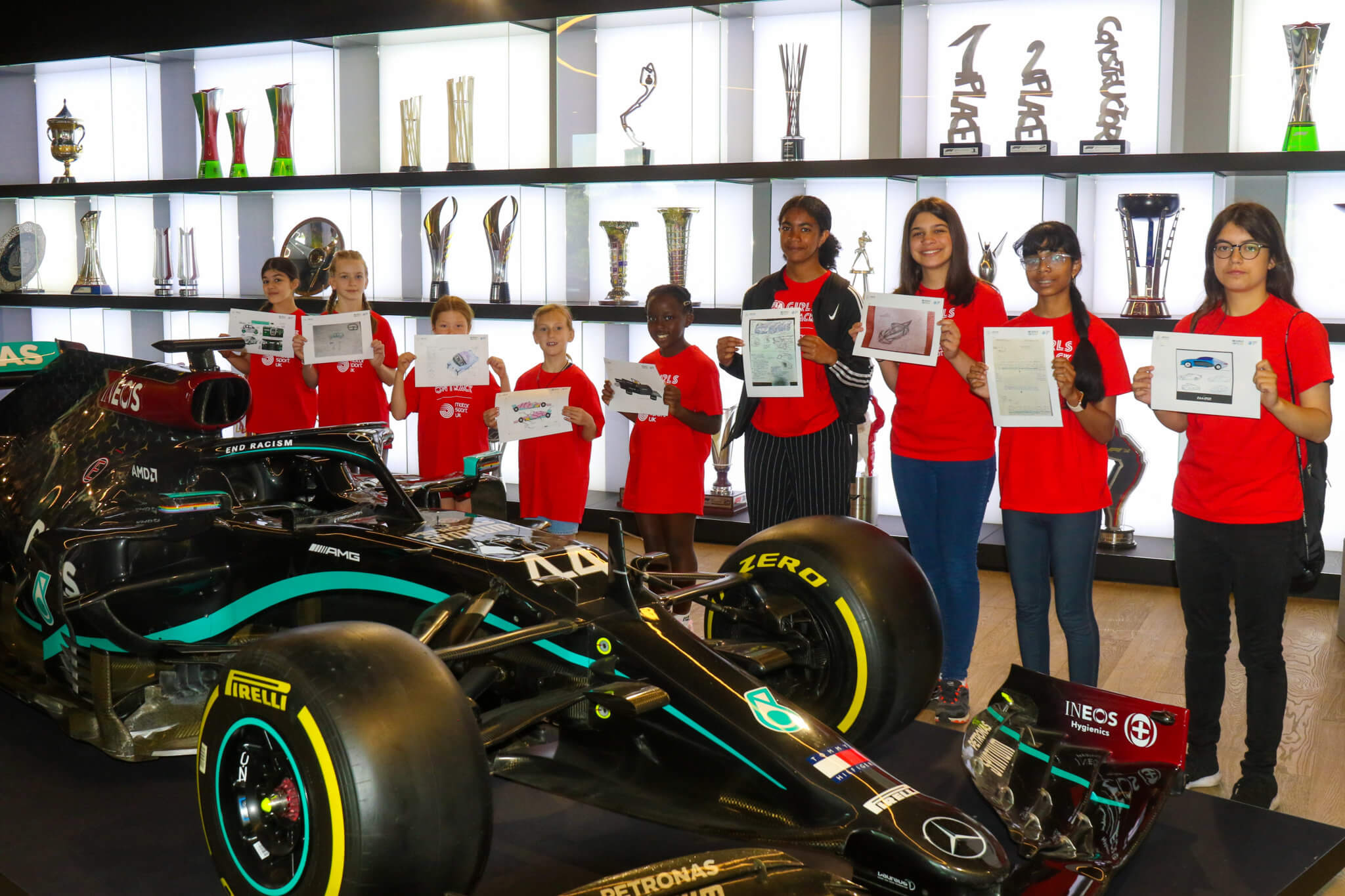 Paloma (furthest on the right) and the other community competition winners at the Mercedes F1 factory in Brackley
"I left the Mercedes factory full of hope for a future as an aerodynamicist in an F1 team. This is a day that I will always go back to in my memories to remember how it all started for me.
"Then, last month I went with Girls on Track to the Formula E London E-Prix. This time, I got very close to the track and visited the garages to see how a race weekend goes in Formula E. On Friday, I met Dr Clare Morden, the race doctor. She even allowed me and the other girls to get inside the safety car. I also managed to race in a simulator; it was fun racing on the same circuit I had just visited!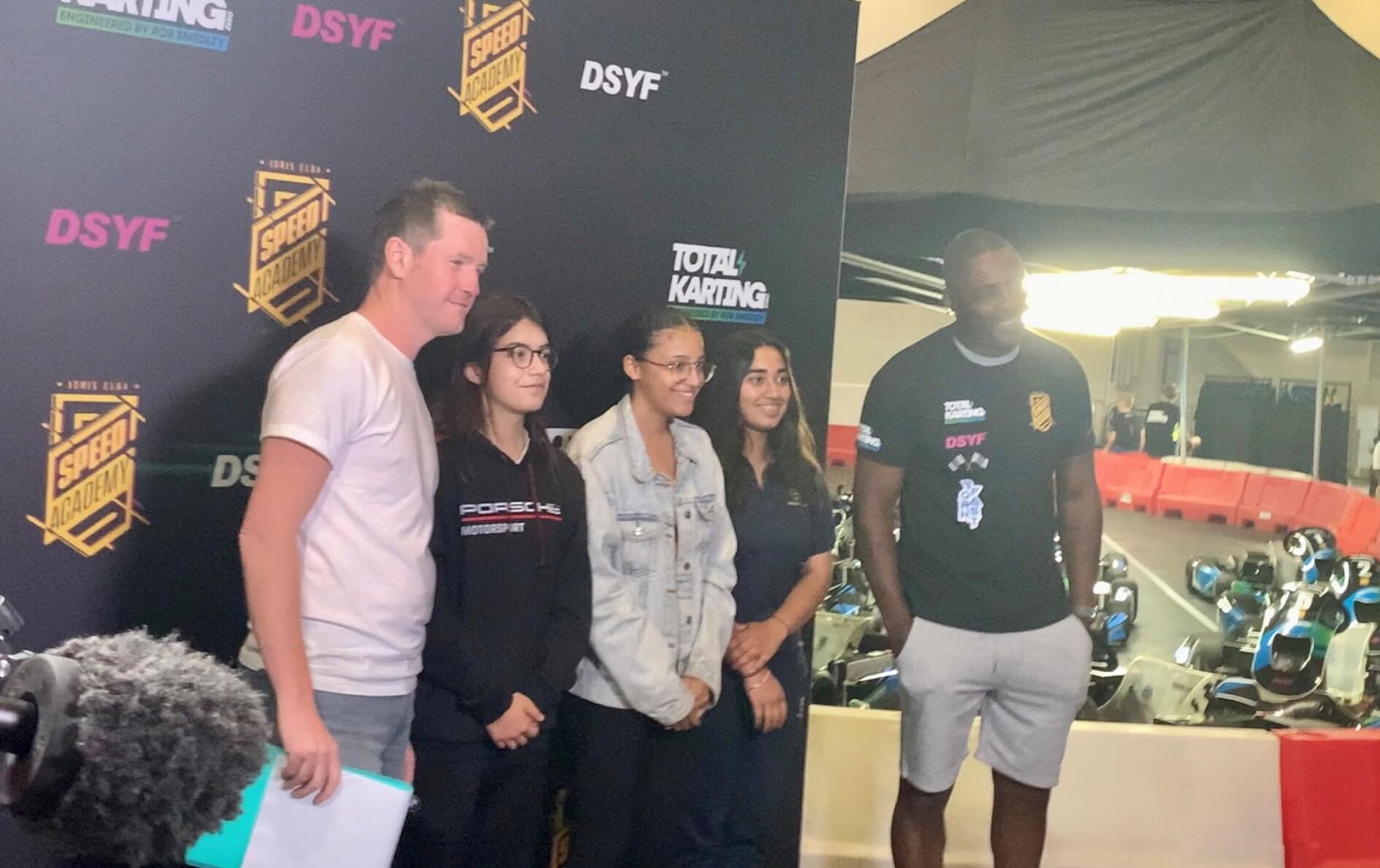 Paloma (second from the left) is congratulated by Idris Elba after winning a scholarship
"Saturday and Sunday at the London E-Prix were two of the most exciting days of my life. I was busy racing electric go-karts as part of a competition I found through Girls on Track UK to win a scholarship with Idris Elba's Speed Academy and Total Karting Zero, an initiative to discover new talents in racing. I still cannot believe I am one of the nine winners. Listening to my name being called and having Idris himself congratulating me is one of the best days in my short career in motorsports. I look forward to making the most of this incredible opportunity to be successful in competitive racing.
"FIA Girls on Track UK has opened so many doors for me; I feel there has never been a more exciting time for girls to get into motorsports, not just racing or engineering but also as doctors, photographers, mechanics, marshals, journalists, and so much more!"