Revamped FIA European Rally Trophy takes one step closer to UK
The FIA European Rally Trophy (ERT) has been revamped for the 2023 season, with a more comprehensive calendar of events and one title.
The previous format of myriad regional competitions has been discarded in favour of a combined 20-event calendar, featuring rounds on gravel and asphalt, across 14 countries in Europe.
The 2023 ERT calendar includes three rounds which form part of the Motorsport UK British Rally Championship (BRC): Ypres Rally, the Ulster Rally, and Rali Ceredigion.
This fresh format is designed to increase participation in motorsport across the region; made evident by the fact that several countries, who do not regularly stage FIA events at this level, are hosting rounds of the ERT.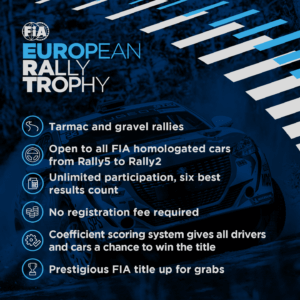 Motorsport UK's Head of Rallies and Cross Country, Jonathan Jackson, believes that the inclusion of these events in the ERT calendar is a significant development for the sport in the UK.
He said, "We are very pleased to see our home international events recognised within an FIA Trophy. The ERT is also a great platform for competitors to showcase their skills and develop their knowledge against more experienced rivals at a higher level. The inclusion of these three events in the ERT calendar is an exciting opportunity for competitors from the UK to demonstrate their capabilities on the European stage. With the inclusion of the Donegal International Rally in Ireland as well, they have a real opportunity to take an FIA title." 
The new ERT format has also introduced some significant changes. This includes overall titles for drivers and co-drivers, as well as an award for drivers under 27 years old. The point-scoring coefficient also makes it possible for any driver to win the ERT Trophy title, regardless of the type of car they drive. Additionally, there will be no separate class titles based on car performance, but a coefficient will be applied according to the number of starters in Rally2, Rally3, Rally4, Rally5, and RGT cars.
The ERT format has been designed to create a level playing field for competitors, allowing them to compete against each other on an equal basis, irrespective of the category of car they drive. Competitors can count their best six scores, but will not be restricted to how many events they contest. 
Click here for the Sporting Regulations